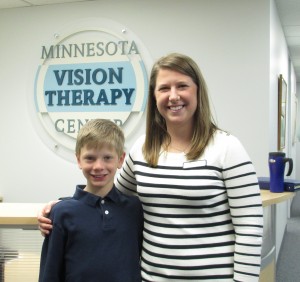 Tyler completed his Vision Therapy program a few weeks ago. He is such a fun, energetic and overall great kid to work with. Tyler came in with little desire to read and was spending a lot of time and frustration on his homework.
As therapy sessions progressed over the year, I started to hear him and his mom talk about all of the books he had been reading. His mom even mentioned to me one day that he didn't want to go to sleep at night because he would be up late reading in bed!  We created a reading monster! What a positive transformation. He loves books now!
As for homework, he just says it's much easier. Simple as that.
His mom says, "The best thing is Tyler has more confidence in his abilities!"
We're so happy to be a part of Tyler's success with reading and school. Congratulations on your success and hard work!
Check out the video below to hear what he has to say about Vision Therapy: